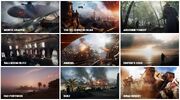 If you've followed anything about Battlefield 1 you've likely noticed a variety of locations at the dawn of all-out war. Deserts, Forests, Crumbling cities; Battlefield 1 will bring you to new and exciting Maps and multiplayer maps will support up to 64 players as you take part in some of the largest battles in FPS history.
List Of Maps
→ See also: Modes - Complete with insight into the three game modes in Battlefield 1.
In The Name Of The Tsar Maps
Summer Of Battlefield
Prise de Tahure - Part of 2017's Summer of Battlefield, Champagne-Ardennes, 1917. French troops desperately hold on to re-captured heights in the Butte-de-Tahure region. The frontline trench networks cut right through several villages facing obliteration from the constant skirmishing between German and French troops.
Nivelle Nights - Part of 2017's Summer of Battlefield, will release in June for Premium Pass and They Shall Not Pass Expansion Pack* owners, Nivelle Nights takes the fight to Chemin des Dames, 1917. As darkness falls over the muddy battlefields around Malmaison and Soupir, French and German batteries prepare to yet again support their troops on the contested ground.