Obi-Wan Finale - The Loop
Play Sound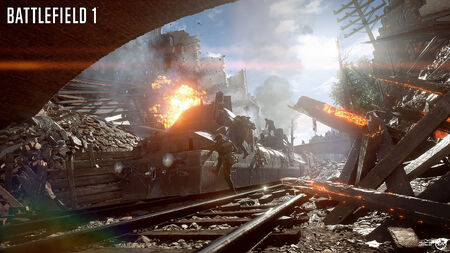 Amiens is one of the Maps in Battlefield 1.
Map Description
A destructive clash in a majestic city. Fight on the streets and squares in French city of Amiens during the German spring offensive. A struggle in crumbling alleys, a courthouse, around bridges and railways where the British and the Germans desperately seek to control the depths of the city. [1]
Amiens is meant to resemble a battle space in France where the United Kingdom and the German Empire fought in August of 1918. Allied forces eventually overtook the German army, but it was a gruesome battle nonetheless. More than 44,000 lives were lost.
The bridge objectives can be captured from below
Trains are the best teachers. In a losing conquest match on Amiens, our team was 'awarded' with an armored train, which we promptly choo-chooed over the far bridge objective (point C in conquest), one the two troublesome bridge objectives on Amiens. It's in the open, surrounded by four buildings where snipers like to hang out, and as I discovered upon leaving the train, can be captured from beneath the bridge it's on.
As annoying as it can be, make sure to use this tactic whether your team has an armored train or not. Keeping some sneaky infantry below the bridge while another force pushes up top is a good way to pick off unsuspecting soldiers while continually contesting and squad spawning on the point.
Spec your anti-tank crews with mines and charges
In the tight urban quarters of Amiens, vehicles are usually restricted to driving on the same few roads leading into an objective, and underneath the watchful guise of second story windows, they're open to every sort of explosive measure out there. It's a perfect map to test out dynamite and tank mines with the assault class and limpet charges with support. Don't be shy, hug a tank today.
→ See also: Sinai Desert, The St. Quentin Scar, Amiens, Giant's Shadow, Empire's Edge & Monte Grappa.
References