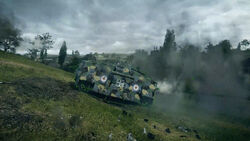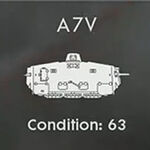 The A7V Sturmpanzerwagen (Assault Armored Vehicle) is the German Empire's tank.
History
Designed by the Allgemeines Kriegsdepartement, 7. Abteilung, Verkehrswesen, the A7V was the only tank designed by the German Empire and deployed during the war. Only twenty were produced and made a very modest contribution to the Great War, as their boxy design was cumbersome and ill-suited for the ravaged terrain of First World War battlefields.
Gameplay
In Battlefield, however, the Sturmpanzerwagen lives up to its name, offering a forward-mounted 57mm tank gun and six 7.9mm machine guns to deter infantry. Although historically it was extremely slow, barely reaching speeds of over 4 mph cross country, it's fairly nimble for a tank of its size.